4th of July Scripps Ranch 2 Mile Fun Run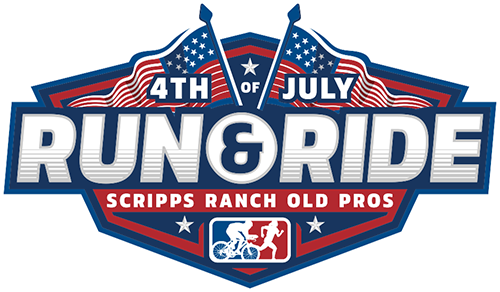 Registration
| | | |
| --- | --- | --- |
| Register before June 1: | Adults: $20.00 | Kids under 12: $15.00 |
| Register on or after June 1: | Adults: $25.00 | Kids under 12: $15.00 |
There are no added fees for registering online.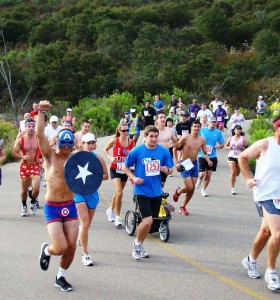 Presented by the Scripps Ranch Old Pros, the 4th of July Fun Run is for everyone! Runners and walkers will enjoy this easy event designed for all members of the family. It features an exciting downhill finish that ends in Hoyt Park, where you can watch the Scripps Ranch Parade later that morning. The Fun Run is a community favorite!
Awards and prize drawings to be held at Hoyt Park at 9:00 a.m. (run participation not required).
Commemorative T-shirt to all registered participants at finish.
Post-race refreshments. 21+ picture ID required for beer garden.
Fun Run Information
Bib Pick-up
You can pick-up your Fun Run Bib one of four ways:
Sunday, July 1st
Pick up your bib and t-shirt at RoadRunner Sports on July 1st between 11:00am and 3:00pm. (Directions)
Tuesday, July 3rd (Day before the Run)
Pick up your bib and t-shirt at Hoyt Park on July 3rd between 3:00pm and 6:00pm.
Wednesday, July 4th (Day of the Run)
Go to the Registration Area prior to the race. The Check-in tables open at 6:00am and are located at the intersection of Aviary and Red Cedar Drive.
Mail
We'll mail your bib directly to you for an additional $2.50 if you register by June 15. Bibs will be mailed the week after June 15.
Please wear your bib on the front of your shirt or shorts at all times during the race. Failure to do so may result in your removal from the course. Keep your bib with you after you run as it provides access to many post-race amenities and is needed to receive your commemorative t-shirt.
Parking & Shuttles
The primary parking lot is the Vons Shopping Center on the corner of Scripps Ranch Blvd. and Aviary Dr. Shuttle vans will transport participants from this lot to the start area between 6:00am-6:50am. Due to the ever increasing popularity of this event you are encouraged to arrive at the parking lot no later than 6:30am to ensure that you will be ready to start when the gun fires at 7:07am.
Overflow parking is available on Meanley Dr. and Hoyt Park Dr. We have permission to use the parking lots for the CoreLogic building located at 10277 Scripps Ranch Blvd conveniently located between Meanley and Hoyt Park Dr. and also further up Meanley or Hoyt Park Dr. in the PayChex parking lot located at 10150 Meanley Dr. We will have shuttles waiting at the intersection of Meanley and Hoyt Park Dr. to take you to the start line. This overflow parking is easily accessed after the race from the Hoyt Park finish line by walking down Canyon Lake Drive to the cul-de-sac and taking a short trail back to Hoyt Park Dr.
Craft Beer Garden

This year we're expanding our Craft Beer Garden to make it even more awesome. Sip sip hooray!
We're not just making it bigger—we're also adding more craft beer in addition to your favorites from Ballast Point and other local craft breweries.
Did we mention it's completely free with your registration? Just make sure to bring your ID and run or ride bib to the garden entrance and we'll get you right in.
Check-in
The Check-in tables open at 6:00am and are located at the intersection of Aviary and Red Cedar Drive.
Start Line
The Fun Run starts at 7:07am on July 4th.
The Start Line is in front of Miramar Ranch Elementary School on Red Cedar Drive.
Finish Line
The Fun Run finishes on Canyon Lake Drive adjacent to Hoyt Park.
T-shirts
You can pick up your commemorative t-shirt after you run, or you can pick it up the day before the race at Hoyt Park on July 3rd between 3:00pm and 6:00pm. You must present your bib to receive a t-shirt, no exceptions. Additional Old Pros logo items can be purchased for a modest fee. Contact us if you are unable to pick up your t-shirt after the run. (Save your bib!)
Strollers and Pets
Strollers are allowed on the race course. Please start towards the back of the starting line so you won't impede the other runners.
Pets are not allowed on the race course.
Want to Volunteer?
We'd love to have you! Let's get in touch.
2 Mile Fun Run Course