Open League Night Softball Registration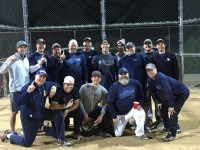 The Scripps Ranch Old Pros Summer Open Division Night Softball League plays on Wednesday nights at Marshall Middle School Fields.
League Info
Regular season play starts on July 10th. Championship game is on November 6th (pending rain).
Availability, Cost & Late Fees
The league cannot accommodate an infinite number of teams and/or players. It is first come, first served. You are entered as soon as you fill out the application and pay online.
Civilians
Old Pros
Registration: before midnight on June 16
$100.00
$90.00
Late Registration: from June 17 to midnight on June 23
Paid players will now be placed onto teams ahead of wish list players.
$120.00
$110.00
Ridiculously Late Registration: Beginning June 24
No pay, no play. After 7/1 "Core" players will be bumped in favor of paid waiting list players.
$140.00
$130.00
League Commissioners
Rules
Download the Night League Softball Rules.