Fall Masters Night Soccer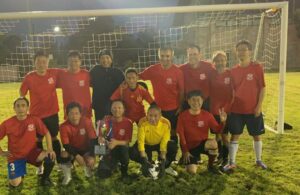 Regular season play is from August 28th through December 7th. Game times are 7:00 PM or 8:30 PM on Monday and Tuesday evenings in Scripps Ranch. Each player will either play on Monday night or Tuesday night of each week.
Lottery Process
Because the League cannot accommodate an infinite number of teams or players, spots are filled by a lottery. If your registration is received by 7:00PM on August 21st, you are guaranteed a spot in the lottery, but you are not guaranteed a spot on a team.
New Players
All New Players and any player who has not played in an Old Pros league in the last two years must attend a pre-season evaluation scrimmage (7:00PM on August 23rd) to be eligible for the lottery or sub list.
Attendance
The League requests that players only sign up if they are confident that they can attend at least two-thirds of the scheduled regular season games. Any player who misses two consecutive games without requesting a sub is subject to immediate substitution for minimum three more games by the League. Any player who misses three total games without requesting a sub is subject to immediate replacement as well as suspension from all SROP Soccer Leagues for one year.
League
Players must be 45 years old by August 24th, 2023 (birth dates will be verified).
Registration Deadline: August 21, 2023
Registration fee includes: Team jersey, 10-11 match schedule plus playoffs, season-end Finals and Feast.
Full Season Players
| | |
| --- | --- |
| Through August 14th | $185 |
| Beginning August 15th | $195 |
Substitute Players
Questions
Register Today