Open League Night Softball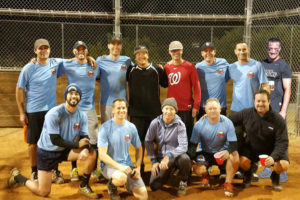 The Scripps Ranch Old Pros 2020 Open Division Night Softball League plays on Wednesday nights at Marshall Middle School Fields.
League Info
Season runs from February 5th through June 3rd (pending rain).
Returning this season: the commissioners plan to provide a button down jersey (~$30 value) that will be used for several years (AKA not replaced for each season). The league is also offering an opportunity for you to customize your jersey with your name (anything you want as long as it is "family friendly") and number for an additional $15.
Schedule & Rules
Download your very own copy of the Night Softball Schedule and Night Softball Rules.
Availability, Cost & Late Fees
Once the maximum number of completed applications with payment are received, players will be assigned a waiting list based upon the date paid It is first come, first served. You are entered as soon as you fill out the application and pay online.
Early Bird Registration: before midnight on 1/15
$100.00
Registration: from 1/16 to midnight 1/22
Paid players will be placed onto teams ahead of wish list players and players will no longer get to pick shirt size.
$120.00
Late Registration: from 1/23 – 1/28
After 1/29 any unpaid core players will be bumped in favor of paid waiting list players.
$140.00
League Commissioners