Scripps Ranch Old Pros Invitational Coed Volleyball Tournament
Saturday, May 16th at 9:00am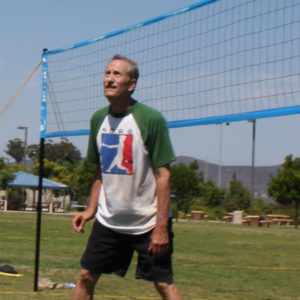 Tournament Info
Join in on the fun with a day in the park playing Old Pros 4 man volleyball. The format for tournament registration is based on "Pairs", so grab a buddy, spouse or kid and sign- up as a "Pair" for the tournament. You can also sign up and a single and we will pair you up. We will be playing 4 person teams on the grass and during round robin play, your pair will be matched up with numerous other pairs to make a 4 man team. After the round robin, the talent committee will match up pairs so that everyone has a fair shot at winning the double elimination tourney.
The tournament will be held in Scripps Ranch at the south end of Community Park at 11454 Blue Cypress Drive. Play will begin at 9:00 a.m. promptly (please arrive no later than 8:45am). Kids under 21 must pair up with a parent. Our goal is to balance the teams as evenly as possible. We play by tight rules (nets, sets and carries) for the "A, B & C" players and the Jed Pettey rule is in affect for the "D" players (loose rules). Men are not allowed to block women under 6 feet.
A delicious lunch will be served with lots of cold beer and water. A cool Old Pro Volleyball T shirt is also included in the price of admission – only $35 per player if you register by Sunday April 19. After that the price goes up to $45. First 48 to sign up are in.
Event Summary
Sign up as a single or pair – Play will be 4 man teams on 4 grass courts
Saturday May 16, 9AM-2PM
South end of Community Park (11454 Blue Cypress Dr.)
Hot lunch, cold beer & water
Cool SROP Volleyball T shirt
$35/person until Sunday April 19 ($45 after)
Questions
For more info contact email Kevin Clark or call (858) 334-3845
Register Today